Teen Class (Ages 13-18)
Teen Audition Technique
---
CALLING ALL TEENS!
Do you want to ace every audition you walk into? Then join us for a weekly class focused on helping YOU level up your audition game!
The class meets IN-PERSON every other Sunday at 10 am PT (starting 9/26) and will focus on finding strong audition materials, building your confidence as an auditioner, and even submitting audition packages to real-life open opportunities!
This is a chance to work with a small group of other actors and learn collaboratively about how to bring your best self into the audition room.
This class is ongoing; all you have to do to join is email Mr. Sean at sean@trinityttc.org, and you can do so at any time! We'll see you there!
Every other Sunday from 10 am-1 pm
Email Sean@TrinityTTC.Org to join
Youth Productions (Ages 5-18)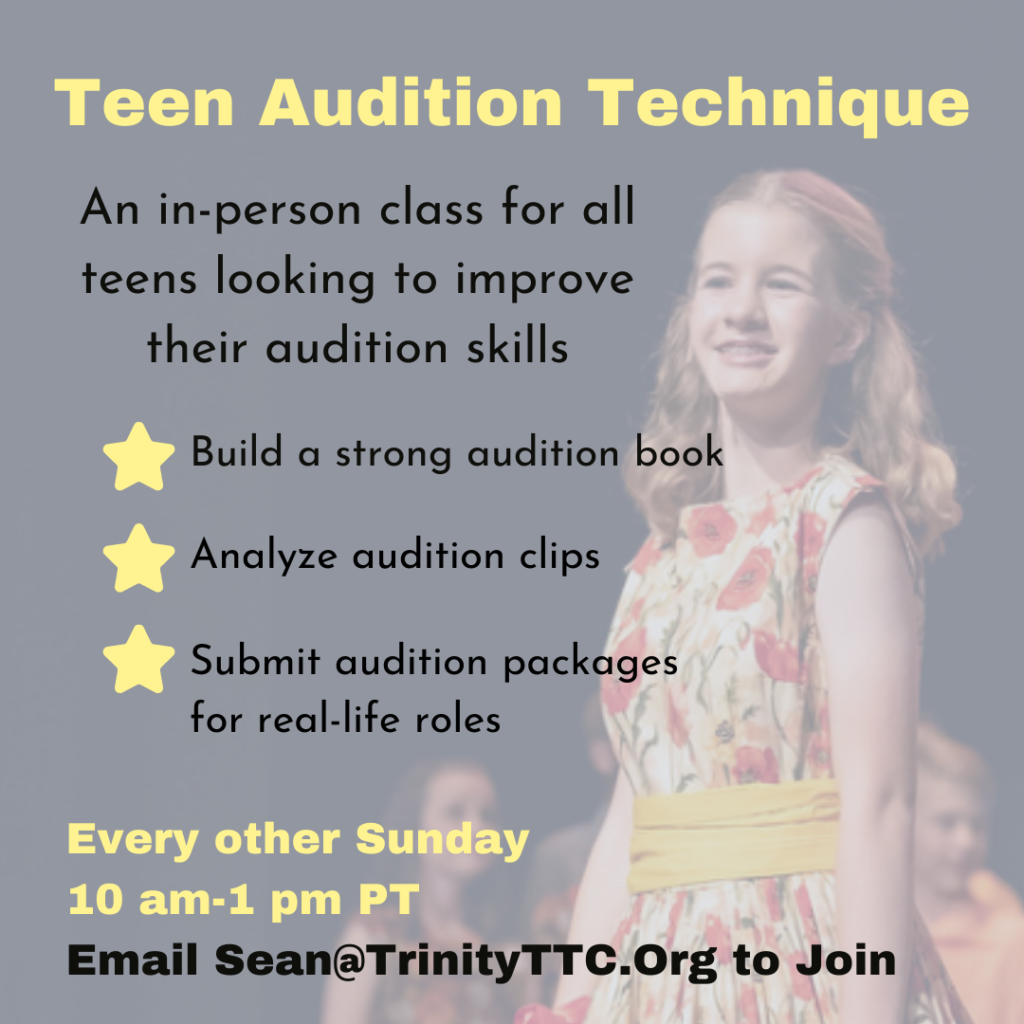 Matilda Jr.
---
Rebellion is nigh in Matilda JR., a gleefully witty ode to the the anarchy of childhood and the power of imagination! This story of a girl who dreams of a better life and the children she inspires will have audiences rooting for the "revolting children" who are out to teach the grown-ups a lesson.
Matilda has astonishing wit, intelligence… and special powers! She's unloved by her cruel parents but impresses her schoolteacher, the highly loveable Miss Honey. Matilda's school life isn't completely smooth sailing, however – the school's mean headmistress, Miss Trunchbull, hates children and just loves thinking up new punishments for those who don't abide by her rules. But Matilda has courage and cleverness in equal amounts, and could be the school pupils' saving grace!
Packed with high-energy dance numbers and catchy songs, Matilda JR. is a joyous girl power romp. Children and adults alike will be thrilled and delighted by the story of the special little girl with an extraordinary imagination.
January 26th, 2022 – April 10th, 2022
Rehearsals: Wednesdays 4-7 pm and Saturdays 10 am-2 pm
Rehearsals at Pacific Highlands Ranch Recreation Center
Performances: April 8th – April 10th. Fri/Sat at 7:00pm. Sun at 2:00pm
Performances at Ocean Beach Playhouse (tentatively)
Tuition: $350 per student