Teen Class (Ages 13-18)
Teen Audition Technique
---
CALLING ALL TEENS!
Do you want to ace every audition you walk into? Then join us for a weekly class focused on helping YOU level up your audition game!
The class meets IN-PERSON every other Sunday at 10 am PT (starting 9/26) and will focus on finding strong audition materials, building your confidence as an auditioner, and even submitting audition packages to real-life open opportunities!
This is a chance to work with a small group of other actors and learn collaboratively about how to bring your best self into the audition room.
This class is ongoing; all you have to do to join is email Mr. Sean at sean@trinityttc.org, and you can do so at any time! We'll see you there!
Every other Sunday from 10 am-1 pm
Email Sean@TrinityTTC.Org to join
Youth Production (Ages 8-18)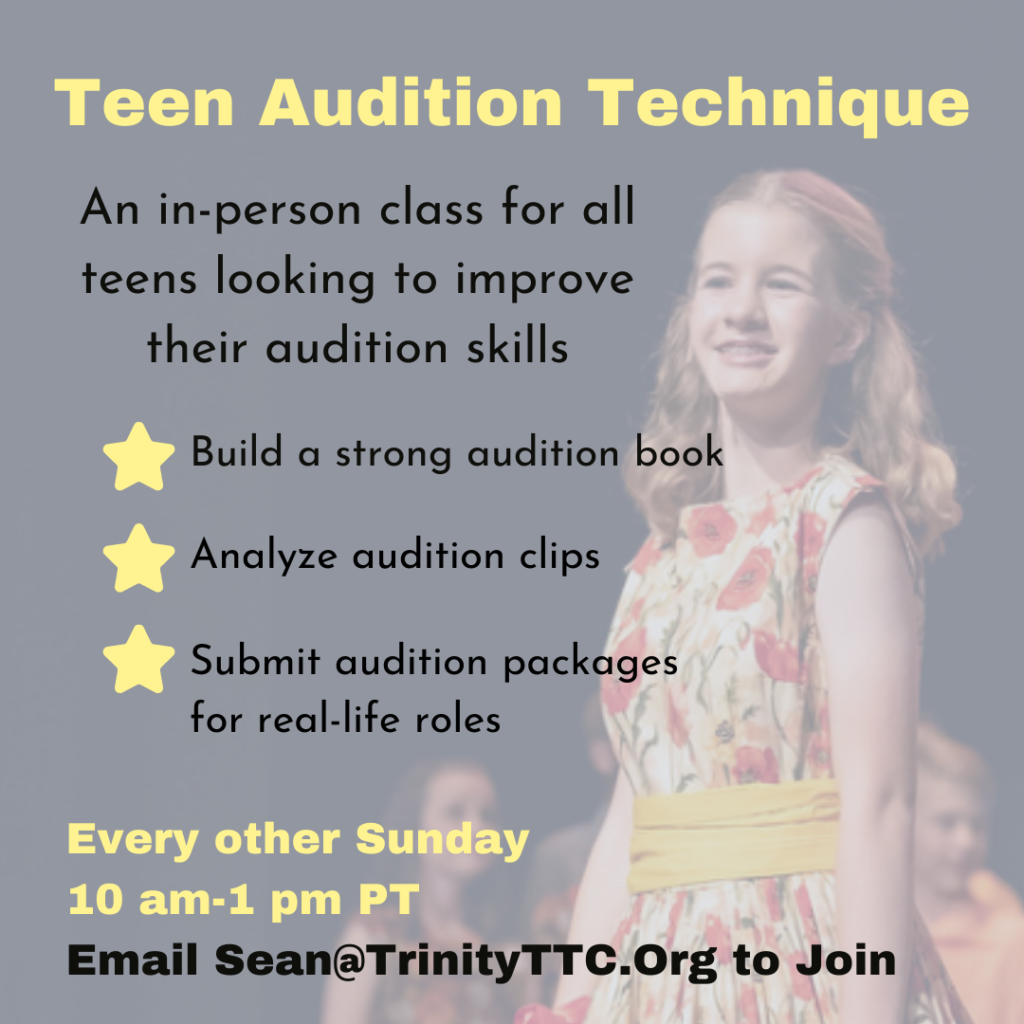 Into the Woods Jr.
---
Be careful what you wish for as Stephen Sondheim's and James Lapine's cockeyed fairytale comes to life in this adaptation of their groundbreaking, Tony Award-winning musical.
Into the Woods JR. features all of your favorite characters — Cinderella, Little Red Riding Hood, Jack (and his beanstalk) and the Witch — in this lyrically rich retelling of classic Brothers Grimm fables. The musical centers on a baker and his wife, who wish to have a child; Cinderella, who wishes to attend the King's festival; and Jack, who wishes his cow would give milk. When the baker and his wife learn that they cannot have a child because of a witch's curse, the two set off on a journey to break the curse, and wind up changed forever.
September 18, 2021 – November 21, 2021
Mondays 4-6 pm, Wednesdays 4-7 pm, and Saturdays 10 am-2 pm
Rehearsals at Pacific Highlands Ranch Recreation Center
Performances at Del Norte High School
THIS PRODUCTION IS CURRENTLY IN THE REHEARSAL STAGE