"Fires in the Mirror, "The Mountaintop," and "Dracula" lead the lineup for Trinity's fall season.
[September 16, 2020] — Trinity Theatre Company has announced its first fully virtual season, including three shows to be produced and streamed over Zoom this fall. The fall season includes three plays: "Fires in the Mirror" by Anna Deavere Smith, "The Mountaintop" by Katori Hall, and  "Dracula: The Journal of Jonathan Harker" adapted by Jim Helsinger. 
Trinity's first virtual season is grounded in its continued intention to maintain Social Distancing, while providing the Arts to our local community.
"We understand that nothing is normal during the Pandemic, nor should we make any attempt to normalize it," says Trinity Theatre Company Artistic Director, Sean Boyd. "However, our mission is to unify friends, family, and the community through theatre and arts education. Therefore, in pursuit of that mission, we will embrace Zoom Theatre as a means of connecting us in the midst of the greatest isolation we have had."
Fires in the Mirror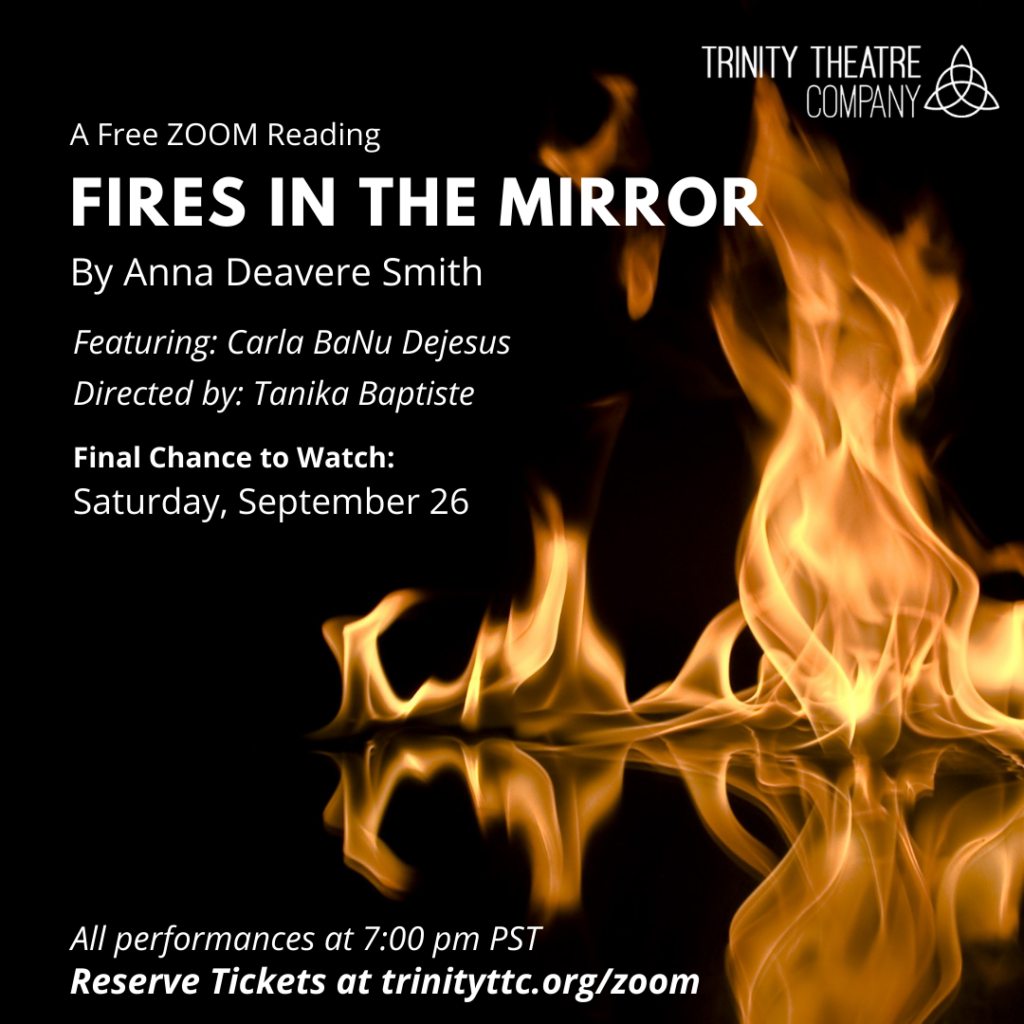 Trinity's virtual fall season begins with three performances of "Fires in the Mirror" by Anna Deveare Smith. Revolving around the riots that occurred after two killings, this play takes a searing look at the misunderstandings of, and sympathies between, two cultures living in the community of Crown Heights, Brooklyn, New York. 
The show, which features actor Carla BaNu Dejesus in the singular role, and is directed by Tanika Baptiste, will be performed live on Zoom on Saturday September 12, Saturday September 19, and Saturday September 26. All performances are at 7:00 pm PST. 
"In the midst of the Black Lives Matter, I find many people breaking segments of people into two groups: 'supporters' and 'dissenters,' says Boyd. "While it may feel easier to see things in the black and white frame work, it allows complacency by allowing the actions of one individual to speak on behalf of the entire movement. Our production of Fires in the Mirror demonstrates the individuality of citizens involved in social justice movements, and will shed light on the need to maintain personal responsibility."
The Mountaintop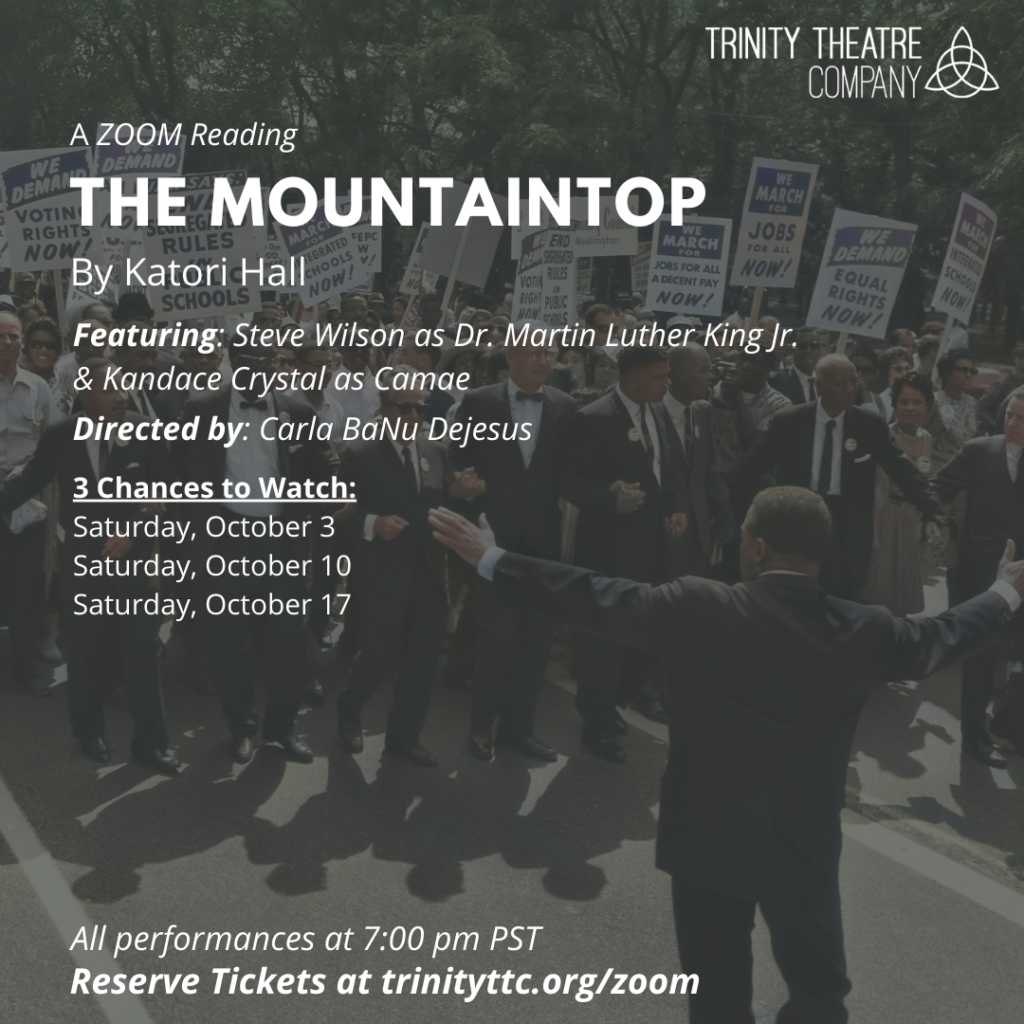 A gripping reimagination of events the night before the assassination of the civil rights leader Dr. Martin Luther King, Jr. On April 3, 1968, after delivering one of his most memorable speeches, an exhausted Dr. King retires to his room at the Lorraine Motel while a storm rages outside. When a mysterious stranger arrives with some surprising news, King is forced to confront his destiny and his legacy to his people.
Performances will take place on Saturday October 3, Saturday October 10, and Saturday October 17, with all shows  at 7:00 pm PST on Zoom. 
From the Artistic Director: "As we mourn the passing of Representative John Lewis, an influential activist in the Civil Rights Movement, we must take the onus to continue making strides towards an equal society. Who will take action now, as John Lewis did after the assassination of Martin Luther King,  Jr.? Who will hold us accountable? Let us honor the great legacy of Representative Lewis by progressing his efforts."
Reserve tickets for "The Mountaintop" in advance at trinityttc.org/zoom. 
Dracula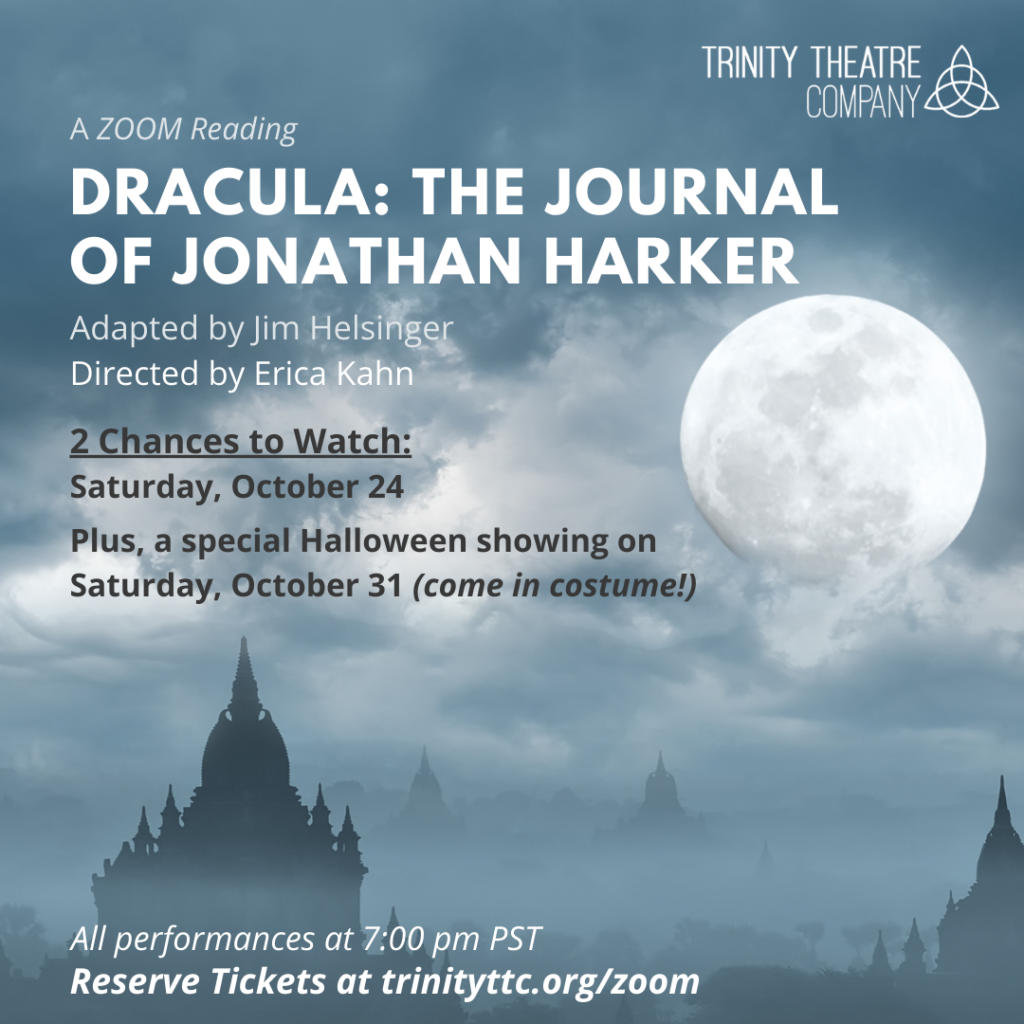 Coming this October, join us for three hair-raising performances of "Dracula: The Journal of Jonathan Harker" adapted by Jim Helsinger.
Sent to Castle Dracula to deliver deeds to the infamous Count, Jonathan Harker has no idea what he's getting himself into in this tour-de-force thrill ride. Once he arrives, Jonathan finds himself being held captive by the eerie and cryptic Count, discovering horrific sights behind some of the castle's closed doors. Only after he escapes is his worst fear confirmed: Count Dracula is an undead creature of the night. With the help of Van Helsing and other friends, Jonathan sets off on a mission to find and destroy the Count before he becomes more powerful than ever, risking his life to save the lives of those he loves.
From the Artistic Director: "The COVID-19 Pandemic is lingering on. As we continue to make holiday plans that require social distancing and face masks, we wanted to provide some type of Halloween event to enjoy from the safety (and comfort) of your own homes. Our frightful Zoom production of 'Dracula' is here to provide some frights and chills for you and your families this October."
Tickets for all productions are free. Reserve tickets in advance at trinityttc.org/zoom.