Dear Trinity Theatre Company friends, family, patrons, and donors –
With the pandemic and its undeniable impact on the theater and performing arts world, we want to share with you Trinity Theatre Company's response to COVID-19.
We are still committed to "making magic happen" during this time of Social Distancing and quarantine. 
In these uncertain times, we are focused on
Putting education first

Providing an artistic outlet for our community

Prioritizing health and safety of students, staff, and patrons
Here's how we're doing it:
We are halting:
Live theatre and in-person gatherings of any kind. We have been forced to make the following adjustments & postponements to our schedule.
In production: The Secret Garden (rehearsals paused)
Upcoming Projects (currently on hold):
Spelling Bee (Mainstage) – Postponed until Summer 2021 (or until safe to perform)

Aristocats (Scripps) – Postponed until early 2021 (or until safe to perform)

Once on this Island (Carmel Valley) – Postponed until Spring 2021 (or until safe to perform)

Dr Doolittle (Downtown) – Postponed until early 2021 (or until safe to perform)

Glory Days (Mainstage) – Postponed until Fall 2021 (or until safe to perform)

Once Upon a Mattress (Carmel Valley) – Postponed until early 2021 (or until safe to perform)

School House Rock (Downtown) – Postponed until Fall 2021 (or until safe to perform)
With regards to our current school partnerships, we have moved existing partnership rehearsals to Zoom, with intent to also perform on the platform.
For now, we have also halted all after school enrichments and in-person classes.
We are hopeful to resume live theatre as soon as it is safe and permissible to do so. 
We are continuing:
Our Arts Education programs, namely Kids Productions – but we have transitioned them to take place entirely over Zoom. 3 weeks of rehearsals and 1 virtual performance. You can read more about how Trinity Theatre Company is innovating on Zoom in this recent article in The Times of San Diego, written by Pat Launer.
We are also continuing to produce "live theatre" in our new digital format, bringing Adult Play Readings to the community twice a month through Zoom. 
Finally, we are continuing some of our most popular Arts Education and Skills classes, but translating them to a digital format. Each Saturday, Trinity Theatre Company, hosts a "Teen Audition Technique" class from 3:30-6:30 pm PST on Zoom. This class is designed for teen theatre performers who are looking to improve their audition skills and techniques.
We are creating:
Several NEW opportunities to educate and grow our community of actors and Arts Education participants.
Teen Leadership Mentorship Program

– In this program designed to give teens ages 13-17 an inside look into what it takes to create and run a theatre company. TTC staff meets with our 6 mentorship participants once every week to take them through a curriculum designed to educate and prepare them for a future in the arts industry. 

Weekly Play Readings for Actors

– Each Wednesday, artistic director Sean Boyd gathers a group of interested actors for "Living Room Theatre" on Zoom. The group of readers go through a show "for the fun of it", preferably with no back knowledge of the show.

Adult Arts Education classes

, all conducted over Zoom. Currently we have an Audition Strategy for Adults workshop, and a playwriting class in the works. Stay tuned for more details.

Sunday Storytime for young children

– Each week on Sunday, Artistic Director Sean Boyd, leads "storytime" – a live, virtual reading of a popular children's book, for kids ages 3-6 and their parents. Past readings have featured: "Don't Let the Pigeon Stay Up Late!" by Mo Willems and "The Cat in the Hat" by Dr. Seuss. 
We are in the process of planning our Summer Camp programming, which will also be conducted fully over Zoom, and an online Education Portal, where you can access all our digital programming at any time. More details coming soon.
What You Can Do
As you can imagine, the financial impact of not being able to produce in-person ticketed events is significant.
Please consider supporting our Arts and Arts Education efforts through a donation. Visit our Donations page to contribute a one-time gift, or consider making a recurring monthly donation. 
ONE THEATRE. ONE STORY.
In addition, Trinity Theatre Company is proud to be a part of "ONE THEATRE. ONE STORY." – a coalition of 30+ San Diego theaters and arts organizations who have come together to advocate for the arts in San Diego. 

ONE THEATRE. ONE STORY. focuses that message and with one voice highlights how meaningful theatre is to San Diego while outlining the ways the community can continue to support our city's vital theatre institutions. The cohort was sparked by outreach from Cygnet Theatre's Artistic Director, Sean Murray, and furthered by MOXIE Theatre's Artistic Director, Jennifer Eve Thorn.
From the official announcement of ONE THEATRE. ONE STORY. – 

"San Diego is a theatre town. More than two dozen 501(c)3 not-for-profit theatres entertain and enlighten audiences across the county. Off-stage our theatre companies are doing incredible work in our schools and neighborhoods, educating and bringing joy to many San Diegans outside of our venues. Due to the current crisis, our theatres have been closed, our stages are dark, our seats remain empty and some theatres have cut up to 70% of staff. Like many San Diegans our remaining staff is working from home. For a sector that relies on public gatherings, this crisis resulted in the halting of nearly all ticket sales and significant financial losses for producing theatre companies with an almost complete halt in performing artist employment.

The San Diego region's arts and culture sector provides over 35,000 full-time equivalent jobs annually, with the sector generating over $1 billion in economic activity, with theatre making up a large portion of that. The ability to continue paying arts employees has a major impact on the local economy.
In the best of times, each of the San Diego non-profit theatres relies on the support of ticket buyers and donors to realize our missions. We need that support now more than ever as we serve our communities online and prepare for the days when we can once again gather in our theatres and share the art we all love. If you purchased a ticket to a show that has been postponed or canceled because of COVID-19, please consider donating the price of the ticket back to the theatre. If you are able, please consider a charitable donation to any of these theatres making profound impacts to the quality of life in San Diego.
As part of the ONE THEATRE. ONE STORY campaign, the group has partnered with ArtsTix as a hub to provide the community with ways to engage as well as donate. Supporters will be able to make donations to individual or multiple theatres in any amount. Donors that contribute $100 or more will receive a ONE THEATRE. ONE STORY keepsake item. Information can be found at https://www.sdartstix.com/otos."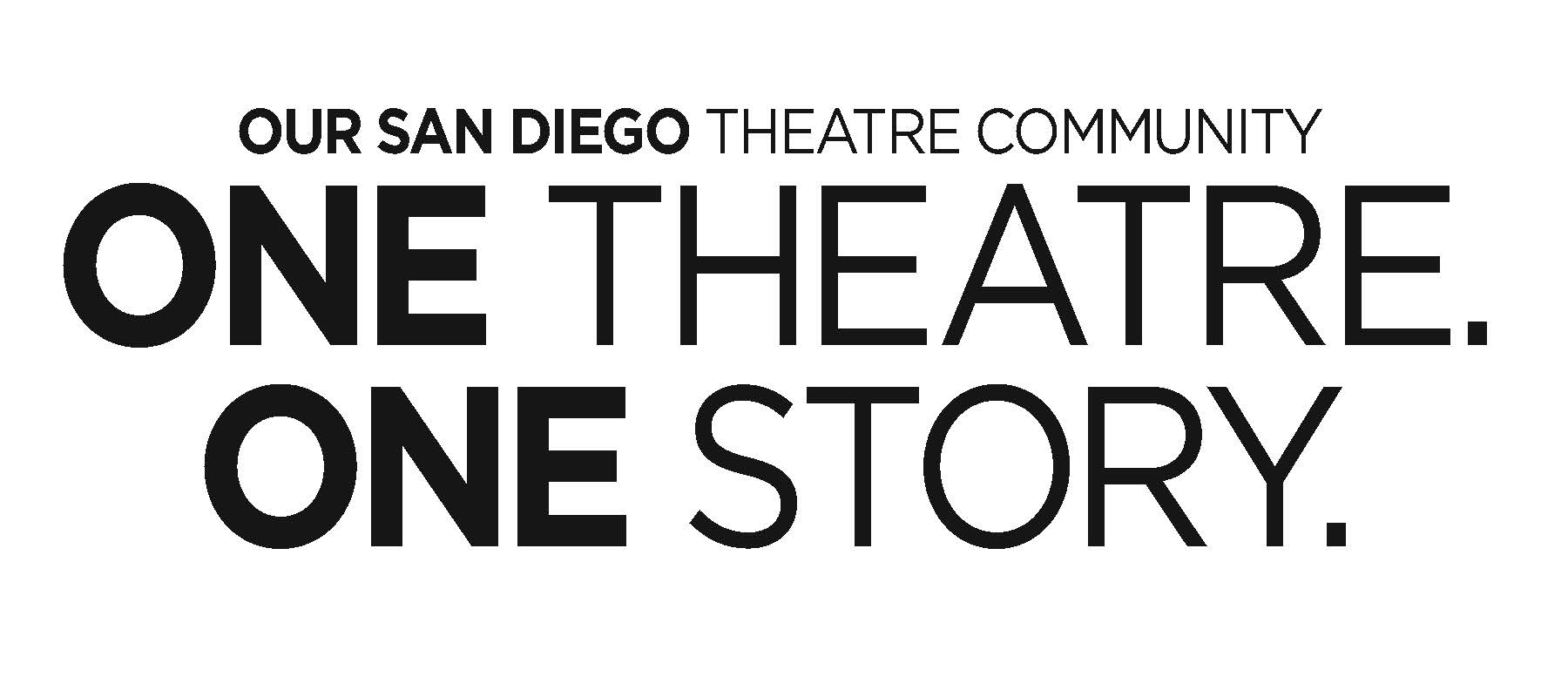 We appreciate your support and continued patronage during this difficult time, and we look forward to "making magic" together again in person soon.